The Phenix National Resource
The Phenix software, cctbx library, and associated activities such as outreach and training are a national resource funded by a NIGMS R24 grant.
What is the Phenix Resource?
Phenix is a software suite that uses reduced data from X-ray diffraction, electron diffraction, neutron diffraction or cryo-EM 3D reconstructions to determine macromolecular structures. It provides tools to address the unique properties of the experimental data, while maximally exploiting the commonalities in computational steps. Emphasis is put on the automation of procedures to avoid burdening the user with repetitive, time-consuming and potentially error-prone manual tasks. Another important feature is the user-friendly design, which makes the software suite accessible to novice users while also keeping it flexible for experts.
Goals of the Phenix Resource
The primary goal of the Phenix Resource is to provide the research community with high-quality software in two forms: 1) the Phenix package, which is mainly used by experimentalists to analyze their data; and 2) the cctbx library, which is used by others to develop new programs. For example, the cctbx forms the basis of the DIALS software developed by researchers at LBNL and Diamond Light Source. The cctbx is also an essential component of the CCP4 software package, and is the development platform of the Olex2 program for small molecule crystallography.
Activities of the Phenix Resource
The Phenix Resource has the following core activities, which enable the Phenix team to provide high-quality software to the research community:
Code maintenance
Code optimization
Maintenance of data resources and libraries
Usability improvements
Dissemination
Outreach
Training
User support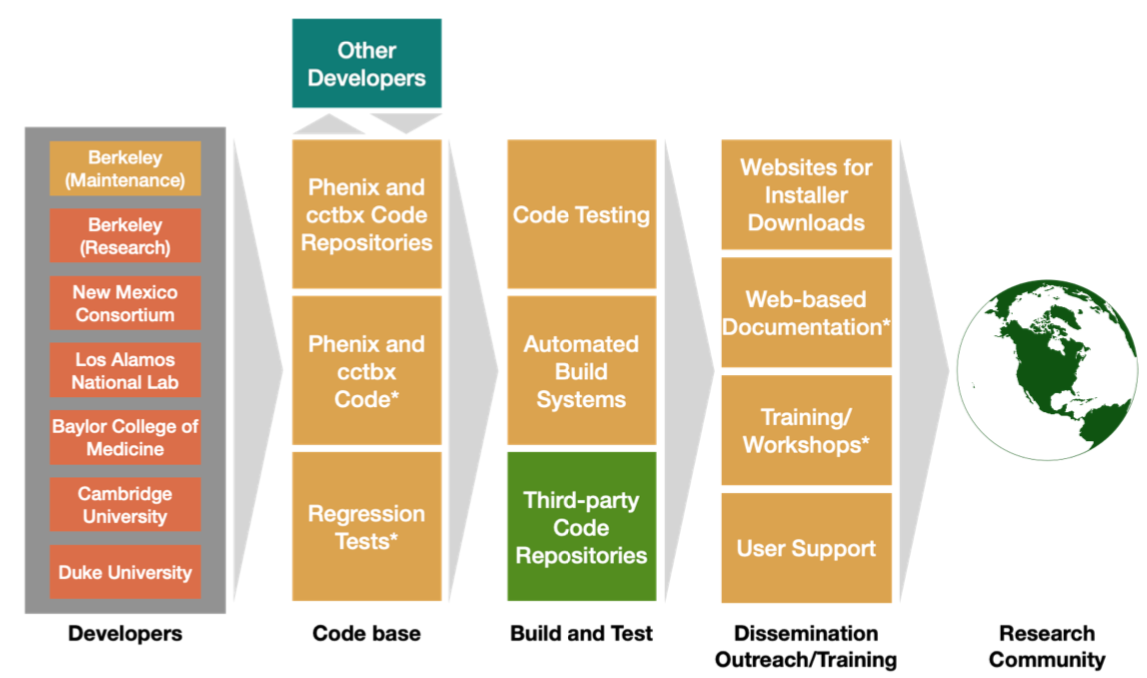 Organization